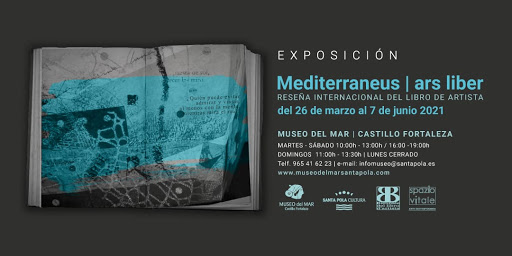 Mediterraneus, Ars Libers è una mostra internazionale di libri d'artista, che si svolge presso il Museo del Mar de Santa Pola, e alla quale partecipano più di 230 artisti provenienti da paesi come Iran, Brasile, Messico, Germania, Italia o Spagna. La storia di questa mostra è organizzata intorno al Mar Mediterraneo.
In questa mostra il Mare Nostrum è rivendicato, inteso non solo in senso stretto in senso fisico, ma in senso esistenziale ed esperienziale.
Mediterraneus, Ars Libers es una muestra internacional de libro de artista, que se desarrolla en el Museo del Mar de Santa Pola, y en la que participan más de 230 artistas provenientes de países como Irán, Brasil, México, Alemania, Italia o España. El relato de esta muestra se organiza en torno al Mar Mediterráneo.
En esta exposición se reivindica el Mare Nostrum, entendido no solo estrechamente en sentido físico, sino con un sentido existencial y experiencial.
Mediterraneus, Ars Libers is an international artist's book exhibition, which takes place at the Santa Pola Museum of the Sea, and in which more than 230 artists from countries such as Iran, Brazil, Mexico, Germany, Italy or Spain participate. The story of this exhibition is organized around the Mediterranean Sea.
In this exhibition the Mare Nostrum is vindicated, understood not only narrowly in a physical sense, but with an existential and experiential sense.